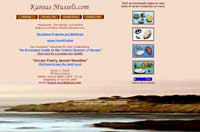 Kansas Mussels of Olathe, Kansas
This website was designed with PayPal functionality. The owner of the business has a book that she wanted to sell. Also her artwork is displayed here as well. Visit her website and see all of her excellent artwork!
PressMasters
This client wanted a complete redesign of their website. A template was customized to suit their taste. New verbiage was added along with new photos. They are very happy!
Home Renovation Company
INNO-HAB Properties Inc. of Kansas City

This client is a home rehabilitation company for distressed residential and commercial property, and they wanted a website that would list their services and email them information from a form.
Template Designed for Client
Plastic Machinery Exchange of California

This client wanted assistance with the navigation on their website so a template with the agitation built in was created. The client does their own content management.
Tulsa Community College Projects
Mercury In Your Home

This website was created for Metropolitan Environmental Trust of Tulsa, Oklahoma. It was a Macromedia Web Design class project. Each student was to create a website for M.e.t. and then they would decide which one they liked the best. This was my design. *(see about.htm page)

Personal Website

Personal Website

Rosebud, Montana

This website was created for my husband's hometown and is especially dedicated to him.